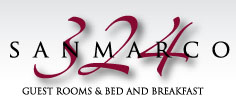 • HOME PAGE

• SERVIZI

• CAMERE

• PREZZI

• LOCATION

• CONTATTI












To reserve a room is necessary to confirm the request by means of mail gloria@324sanmarco.com or calling at +39 049 8935258 - Cell +39 338 7336263 To make a payment equal to the rate of the first night by bank transfer.
To confirm the reservation is necessary to send a FAX to +39 049 8599252 with the photocopy of the bank transfer which shows the security deposit within 48 hours from the reservation or by an e-mail.
In the event of a cancellation up to 3 weeks before the date of arrival, it will be completely refunded.